May
24 2012
Turnip Hash Browns
I used to struggle with what to do with turnips before I discovered this simple way to prepare them. Now I struggle to ever do anything else besides make this!
Serves 2-4
1 lb turnips
salt
3 tbsp butter
Scrub the turnips and remove the thin root tails. As long as they are small, there is no need to peel them. Grate them and toss with salt while filling a colander. You will need about a teaspoon or so of salt. Let them sit for 20-30 minutes. Typically, not much water has drained at this point, but press the turnips as much as possible in the colander. Then place them in the center of a kitchen towel and wring them out. Get absolutely as much moisture out as possible. Warning: your kitchen towel will stink terribly if hung up to dry. Rinse it and put it in the laundry!
Melt the butter in a heavy skillet over medium high heat and add the turnips. Spread them out evenly on the bottom of the pan and allow them to brown. Flip them over after about 5 minutes and let the other side brown. You will likely need to stir them around a bit as they don't get crunchy-crispy like potato hash browns do. You just want to caramelize as much of the shreds as possible. After 10-15 minutes, you should have nice soft, brown hash browns. Enjoy with a fried egg from the farm for the ultimate farm breakfast!
2 comments
---
May
09 2012
Turnip Slaw
(serves 4-6)
1/2 cup mayonnaise (homemade recipe follows!)
3 tbsp sour cream
2 tsp flavored vinegar (tarragon is good)
1 tsp Dijon mustard
1 tsp sugar
1 dash salt
1/4 tsp celery seed
1/4 tsp ground black pepper
1 tsp chopped fresh dill or 1/2 teaspoon dried dill
1 lb turnip, peeled (if tough) and shredded (about 4 cups)
In a large bowl, stir all the dressing ingredients together until well mixed. Add the shredded turnip and mix. Allow to chill for 6 hours to meld flavors…or just dig in immediately like we did!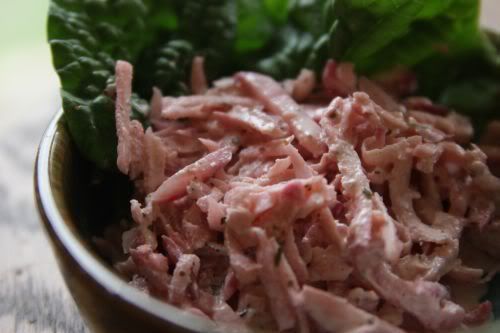 Homemade Mayonnaise (makes about a cup)
Nothing beats homemade mayo with fresh eggs. You will never want to go back to the weird fake white stuff from the grocery store!
1 egg
1 tbsp whole grain mustard
3/4 tsp sea salt
2 tbsp fresh lemon juice
1 cup oil
1 tbsp balsamic vinegar
NOTE: There are many different oils you can use and I recommend experimenting with them. I have learned that while I love extra virgin olive oil, its flavor is WAY too strong for mayo even though I frequently see it used in recipes. I can't even use the light olive oils. I've tried canola, soy and peanut as well. I think peanut is my favorite.
Combine egg, mustard, salt, and lemon juice in a blender. Run the blender at low speed and add the oil very slowly in a thin stream. Slow is the key!
I like to taste it at this point and add the vinegar to taste. I didn't have balsamic on hand last time and just dumped a tablespoon of apple cider vinegar in the mix. WOW, that stuff took the enamel off my teeth!
0 comments
---
May
09 2012
Turnip Soup with Gruyere Croutons
serves 6
SOUP:
4-6 medium turnips, 1 1/2 to 2 pounds (optional: including greens)
3 small potatoes, quartered (peeled if you like)
2 tablespoons butter
2 leeks, white part only, thinly sliced (I subbed 1 small yellow onion)
1 garlic clove, minced
1/4 cup chopped parsley
4 thyme sprigs or 1/4 teaspoon dried
salt and pepper
6 cups vegetable stock
1/2 cup cream or milk
NOTE: When using turnips not at their peak, thickly peel them and cut them into rounds and blanch for 1 minute in boiling salted water. Drain and rinse. This ensures their sweetness. I've done this with really large turnips (each weighing almost a pound) and the soup was still great. If the turnips are nice and young, you can just scrub them hard or thinly peel them. Cut the turnips into chunks (quarter small ones) before adding to the soup.
Melt the butter in a soup pot over medium heat. Add the turnips, potatoes, leeks or onion, garlic, parsley and thyme. I like this kind of recipe – just toss everything in a pot!
 Cook for 5 minutes then add 1 1/2 teaspoons salt and the vegetable stock and bring to a boil. Lower the heat and simmer partially covered about 25 minutes or until the vegetables are tender. Puree all or part of the soup (I did all and it was great) and stir in the cream.
If you like the greens you can add them to the finished soup. I have not tried this as the first time I made the soup the greens were yellow and tough. It was so good without them that I haven't ventured to try out the greens! While the soup is cooking, chop the greens into small pieces – there should be about 2 cups. Simmer them in salt water until they're tender, then drain and add them to the finished soup.
CROUTONS:
1/2 cup Gruyere
1 teaspoon Dijon mustard
1 tablespoon soft butter
a pinch of pepper
12 toasted baguette slices
Mound a little of the topping on each baguette slice and broil until the cheese begins to bubble and melt. Place in the soup or on the side. These can also be made with all sorts of different cheeses. (I used some goat havarti that had just finished aging in the cheese cave…yum!)
Enjoy!
0 comments