Turnip Slaw
(serves 4-6)
1/2 cup mayonnaise (homemade recipe follows!)
3 tbsp sour cream
2 tsp flavored vinegar (tarragon is good)
1 tsp Dijon mustard
1 tsp sugar
1 dash salt
1/4 tsp celery seed
1/4 tsp ground black pepper
1 tsp chopped fresh dill or 1/2 teaspoon dried dill
1 lb turnip, peeled (if tough) and shredded (about 4 cups)
In a large bowl, stir all the dressing ingredients together until well mixed. Add the shredded turnip and mix. Allow to chill for 6 hours to meld flavors…or just dig in immediately like we did!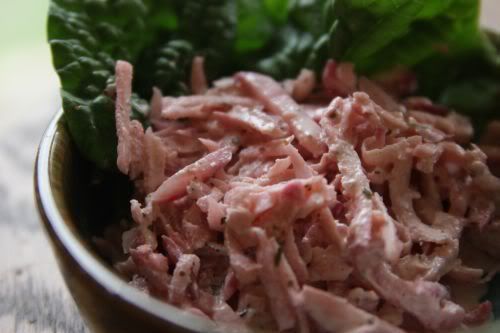 Homemade Mayonnaise (makes about a cup)
Nothing beats homemade mayo with fresh eggs. You will never want to go back to the weird fake white stuff from the grocery store!
1 egg
1 tbsp whole grain mustard
3/4 tsp sea salt
2 tbsp fresh lemon juice
1 cup oil
1 tbsp balsamic vinegar
NOTE: There are many different oils you can use and I recommend experimenting with them. I have learned that while I love extra virgin olive oil, its flavor is WAY too strong for mayo even though I frequently see it used in recipes. I can't even use the light olive oils. I've tried canola, soy and peanut as well. I think peanut is my favorite.
Combine egg, mustard, salt, and lemon juice in a blender. Run the blender at low speed and add the oil very slowly in a thin stream. Slow is the key!
I like to taste it at this point and add the vinegar to taste. I didn't have balsamic on hand last time and just dumped a tablespoon of apple cider vinegar in the mix. WOW, that stuff took the enamel off my teeth!
---