Jul
22 2011
Busy, Busy, busy and Onions!
Long time no post.  I stayed on the farm over the past week while Mom and Pops went to the Seed Savers Exchange conference in Iowa.  Lots to report but still catching up on the more mundane aspects of life.  Just wanted to post one of my favorite onion pictures.  Red, white and yellow onions hanging in the kitchen for drying.  Yum!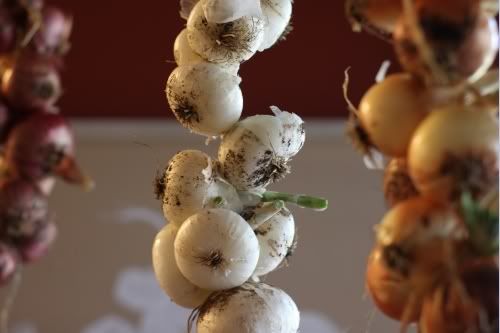 0 comments
---
Jun
29 2011
Lytton Springs
There's a small community very near the farm called Lytton Springs.  It still has a grocer and several nice houses around the main intersection.  And its history is fascinating.
Photo by Texas Daytripper
The small community was named after John Litton, one of the old 300 brought to Texas by Stephan F. Austin.  John met Sarah Standifer during the grueling trek from Missouri to Texas.  Sarah was married 5 times.  Each time, to the same John Litton.  She was a stickler for the rules and every time the flag over Texas changed, she felt she needed to meet the new government's marriage requirements.  John went along with the plan as any good husband should.
John soon discovered an abundant spring with a nearby prolific deer population.  He became quite well known for the tastiest venison around.  Sarah made the family a descent home from land granted them in 1841 in "Hog-eye" north of where John loved to hunt.  The community got it's name from a fiddle tune a wandering musician played during a dance held at the Litton house.  As traffic into the new land increased, Sarah established a family grocery complete with a bar.  The area became a stop for stage coaches to switch out horses and for riders to wet their whistles.  Bowie, Crocket and Travis were known to frequent the bar with Bowie even stopping in on his way to that fateful event at the Alamo.
Sarah had fourteen children.  The first was born and died during the Runaway Scrape when so many Texans fled their homes in a panic about the Mexican Army invading the territory.  Life settled back down and she went on for another 10 year without another major child mishap.  And then her eldest was stolen by Indians!  The family and townsfolk spent all day and evening scouring the forests and fields for the missing child and culprits.  It wasn't until the sun was sinking behind the horizon that Sarah's tear filled eyes finally spotted two Indians approaching with her son.  But alas, he was not tortured, not terrified and not any worse for the wear!  In fact, he wore a brand new deer skin suit, made especially for him.
in 1857, John came down with what we now know was appendicitis.  Sticking to the common remedies of the day, his doctor bled him and he did not survive.  Sarah went on to raise all of her children alone while still tending the store.
As the population of the area grew and wells were dug, the water at the springs began to subside.  Eventually a pond was dug to try to entice the last of the water to the surface.  By the 1980s, only a few seeps were left.  But a large grove of old trees still marks the spot.
Information gathered from this wonderful page put together by the Lytton Study Group.
2 comments
---
Jun
27 2011
Lockhart Main Street Market
We attended our first farmers market this past Saturday.  We have tried two other times to go to market, but nothing like this (the first was a table at the local convenience store and the other was a new market in Bastrop).  We are focusing a lot of our energy on the immediate community instead of Austin these days.  We spend a lot of time traveling back and forth from Austin to Dale and it makes sense to help the communities closer to us gain access to fresh, organic food.   In the most recent edition of Edible Austin (Summer 2011), there was an article about a young couple who moved to Flatonia and found that they didn't "have access to fresh, seasonal, sustainable food in the middle of farm country paradoxically, it was easier to find it in the city."  We feel that this is a problem and want to support changing this paradigm.  Fortunately, the wonderful folks at Imagine Lockhart did all the hard work setting up the market for us and we just had to show up with the vegetables!
It's a great new market, just opening in April I believe.  It's still small but growing.  For a small market, there is a wide variety of things including all sorts of vegetables, baked goods, jams, jellies, sprouts, coffee, dog treats and even some more unusual items like turkey eggs.  I haven't seen those at the upscale markets in Austin! (by the way, the turkey egg quiche from Chicken Valley Farm was delicious!)
And even though the market is small, it is extremely well attended.  It's located just a block north of the beautiful old courthouse.  I was very impressed with the crowd it draws.  Before we even finished setting up and the market officially opened, the business of the day was underway.
Since it was our first major market, much of the farm crew came out.  There were 8 of us out there most of the day.  Pops and Willa spent much of the day parading up and down the street meeting new neighbors, and of course Chad took pictures.  Dale, myself, Loretta, Andy and Caleb along with a local massage therapist:
We sold the majority of our vegetables and signed up a few CSA customers. We only brought a handful of Swiss Chard because I wasn't sure it would sell well.  It doesn't store terribly long so I didn't want it to go to waste by harvesting a lot and having it sit around.  Within an hour, we were sold out!  Dale headed back to the farm and brought another load which we also sold the last of just before the market closed – and then had one more customer asking for some!  We'll be sure to bring lots next week, along with mustard, New Zealand spinach and purslane.
We had a great time getting to know other local farmers, swapping stories on selling strategies or tips on keeping laying hens happy in the heat, and of course buying produce that we aren't growing.  We'll be back each week now as it is our drop off point for the Lockhart CSA members.  Even if it weren't, we had such a good time, we would be back anyway!
4 comments
---
Jun
15 2011
Grain Bin House
We've long fantasized about having a grain bin house at the farm.  No idea what that is?  Oh boy, are you missing out on the fun!  Essentially, you take a grain bin – yes those big round metal buildings – and you convert it to a living space.  Everyone is going to go about this different and the possibilities are only limited by your imagination…and construction skills! Just to whet your appetite:
Montesilo – an incredible double-bin house with a blog that covered its construction:
Grain Bin Cabin (672 sq ft) by Mark Clipsham.  You can even purchase the plans and some of his consulting time to create your own.  Photo from Mother Earth News:
Well we may not just be dreaming of a grain bin house anymore.  Dale noticed some abandoned grain bins for sale on the highway awhile back and Mom and Pops tracked them down.  They went up for a visit and talk with the owner recently.
There were three bins clustered around a grain elevator thing.   One definite problem is getting the heavy conveyor pipes taken down…without letting them crash into the elevator or the other bins.  The owner said a crane would have to be hired for that job.   The one on the left is the only one that hasn't buckled….and its roof is in the best condition.
The good bin had a scary ladder going up the outside and another one on the inside. Pops climbed the inside one and stuck his head out of the roof hatch…about 25′ off the ground.
These bins are about 25′ in diameter and 25′ tall to the eave.  That's very close to 10,000 bushels.   There are 9 rings, each made up of 8 sheets….72 sheets in all.  Each sheet has 50 5/16″ bolts securing it to the neighboring sheets…..3600 bolts in all.    Pops roughly estimated that the cylindrical part of the bin would weigh about 4000 lbs.   That means we could haul the whole thing home with his truck and new trailer.
It would be scary taking the roof apart but Pops think we could handle it pretty well.  From there, the rest would be straightforward.   But he doesn't think we can take the conveyor pipes down……at least he hasn't figured out how yet.
Of course, these things are bare on the inside and the outside even needs work.  But I guess at least they are pretty clean!
5 comments
---
Jun
13 2011
TOFGA New Farmer Workshop
Mom and I attended a workshop at Boggy Creek Farm today in East Austin.  If you're from around here, I sure hope you've heard of this place.  If not, it's a 5 acre farm right in the city.  And I do mean right in the city – it's less than 3 miles from the Texas State Capitol, the center of downtown.  The workshop was sponsored by Texas Organic Farmers and Gardeners Association (TOFGA).
The workshop started with a tour of Boggy Creek.  The house is the original home for a 50 acre homestead started in 1839.  The land has whittled down to only 5 acres, but these guys make the most of it.  They have an onsite farm stand two days a week.  It's a lovely spot to go and see – you can even wander around the chicken coop and the rest of the farm while you are there.  They also have a larger farm out in Gause so the farm stand is chock full of veggies and other local products.
After the tour, we settled down to the business at hand.  There was a discussion about how to market your product – the pros and cons of selling direct at farmers markets or stands, using a CSA, selling to a restaurant or to a grocery store like Whole Foods.  Each option was presented by either a farmer or a buyer with experience in the field to give you their perspective.  It was actually quite eye-opening even though I've been doing "book studying" on this subject for some time.
The two farmers from the previous talk went on to discuss buying land.  The horse is already out of the barn there, but it was still informative.  In fact, it made us feel pretty good about the property we own.  Water is very important of course and we are on the Carrizo-Wilcox – a sand aquifer that has certain features which make it quite acceptable to our needs.  Soil is right up there too – we don't have the best in terms of fertility since it's so sandy but we've been able to make up for that and the soil is looking wonderful now.  And of course, location is important.  This is possibly the one feature we would change.  If we wanted to do a CSA with pickup at the farm, we would really need to be closer to Austin.  It's one of the reasons we are thinking of marketing our product in Lockhart, a nearby city with about 10,000 people.
Speaking of soil fertility, the afternoon continued with an in-depth look into amending your ground for various operations – vegetables, fruits and pasture for livestock.  For me, this was the section that had the most knowledge that we can immediately and directly apply to our situation.  We have a whole list of things to do around the farm!
Then there was a great talk by Jeremiah Cunningham of Coyote Creek Farm.  They mill our organic chicken feed and it was the first time I was able to speak to him in person.  He mainly answered questions about his operation and encouraged us all to come out for an hour long tour of his farm.  It's definitely on our to-do list!  Then one of the Boggy Creek crew spoke about plant varieties, seed companies and starting seedlings.  I think they need a demonstration next time around, but I'm not sure the seed starting was really on the agenda, it's just the way the conversation went.  It was very informative but I can be a visual learner when it comes to things like that.
The day wrapped up with some quick info spots on good resources for new farmers, including ATTRA, Holistic Management International and of course, your local extension agent -  ours being part of Texas Agrilife Extension.
All in all, it was a very informative day and the 6 hours flew by before we knew it.  It was blazing hot even in the shade and there was no breeze.  But we all withstood the hardships and learned a lot.  Most importantly, I feel that we learned who good resources will be in the future.  I will feel comfortable calling or emailing the various speakers with followup questions – something I probably would have never undertaken as a 'cold call.'  Additionally, we learned about several programs and upcoming workshops that I hadn't heard of.  Our training as farmers is just beginning and I feel that it will always be a learning process.
I'm editing to add that we had a wonderful lunch provided by Whole Foods – which even included an option for us vegetarians.  As well, we had delicious Zhi Tea which is a wonderful local company dedicated to fair-trade, organic teas as well as to the local community.  They have a beautiful website and delicious products.  If you haven't tried it yet, do check it out!
3 comments
---