Recent Posts
Check out these posts!
Search
Archives
Mar
26 2014
Nature on a farm
Sorry I've not updated the blog in a bit. I've been busy keeping the facebook page full of fun and interesting things (I hope…). If you haven't "liked" us, do so and get daily updates of the goings on around here.
Lately, I've been thinking about how the farm fits in the natural world. We are currently interviewing people to come and live here and many of them have commented how they want to "get back to nature" or "live in nature". This is all well and good but sometimes I think people that don't farm are missing the point. Much of farming is about manipulating nature or even controlling nature. Growing crops is a prime example. You plant one thing and want just that one thing to grow. But even animal husbandry controls nature – fenced pastures, discing fields, harvesting hay. These are not necessarily bad ways of dealing with nature, it's just simply not the plain and simple natural world.
Fortunately, we run an "organic" farm (not certified but follow the spirit of the law – above and beyond the letter!). That means that even though we are controlling the natural world around us, we also let it thrive when it doesn't interfere in what we do. Our farm is 40 acres and only 5 acres of it are truly part of the active farm. Most of that is in animal pastures and the rest the garden and orchard. Our pastures include as many trees as were here when we bought the property. Animals need shade and the trees are part of the whole ecosystem. That's the important part of sustainable farming – thriving ecosystems. The first few years here were somewhat barren compared to the creatures we have now running around the farm.
Recently while spending time in the goat pen, my nearly 2 year old starting saying "Hi, Rabbit!" We have a goat named Rabbit so I thought it was cute that she finally learned their names until I noticed she was peaking under the stair-step play area for the goats. Sure enough, there was a rabbit under there! Instead of trapping/shooting/killing the rabbit (which loves to eat the pea shoots in the garden…), I decided to encourage him to stay in the goat area and leave the garden alone. We've put some alfalfa and grain around the area and the rabbit continues to return to that spot to shelter during the day. We can get within a foot of him and he doesn't seem to mind. And we haven't lost any pea shoots in about a week!
Animals aren't the only thing though. The woods surrounding the farmed section of our land provide excellent habitat for creatures that benefit us in many ways. Not only do they house birds that eat insects, snakes that eat rats and other good predators, but the woods can provide an escape into an even more natural setting. As well even provide us with food sometimes! We have wild mustang grapes, dewberries and prickly pear fruits. And lots and lots of firewood. And check out the cool bark on this hackberry tree!
So farming and nature can go hand and hand as long as you keep each one in perspective. Big "fence row to fence row" farms don't have the natural world around them to support a thriving ecosystem. But you still must control and manipulate what is going on in the natural world to get the product you want.
1 comments
---
Feb
19 2014
Early spring preperation
Spring on the farm is a busy time of year….um, every season is a busy time of year in Texas where things don't shut down under a blanket of snow! But spring is especially important, as well as fall. Here we have two main growing seasons – warm and cold (or hot and not-so-hot). The transitions occur at spring and fall. So coming up in late March and April we will be planting all the warm season veggies – tomatoes, eggplant, peppers, squash, etc. We even have teeny tomato plants sprouting!

In order to get ready for all that planting, we are harvesting heavily on rows where those veggies are going to go. Most greens will keep growing beyond the middle of March so we are choosing the oldest rows and harvesting the greens completely. But…now what do we do with all that food?!?  Much of our greens and other winter veggies are going into our newly restarted CSA program as well as the Bastrop farmers market. But we have a LOT of greens. So I'm turning more of it into mustard greens pesto and arugula pasta. Rows with cover crops have been tilled and are waiting for the green manure to rot so they can be planted in a few weeks.
Another aspect of getting ready for the new summer crops is to go through our freezer. We put up mostly summer vegetables during the glut in mid-season. By the time the first hard freeze comes and wipes out the summer plants, we are sick of them anyway and ready to concentrate on the bounty of winter. But soon we are peeking in the freezer to find some ratatouille or tomato soup. At this point in the year, I start to really concentrate on using all that up before we start harvesting new summer vegetables. I try to keep track of these things so I can see if we haven't put up enough tomatoes or we froze way too many eggplants (that's the way it goes every year…). This year we have tons extra because the winter garden was prolific during a time when we weren't selling much! So the freezer is still packed.
And as I mentioned in the last post, we are on baby goat watch. Our first is due TODAY but it's late and she doesn't seem to be cooperating. Of course I'll update as soon as she does!
Finally, as the days begin to warm up again, we are putting on shorts and enjoying being outside during all daylight hours. The hammock is back in use and usually fully occupied.
Lots to do and not as much time as I would like to keep the blog and facebook page updated. But I'm working on it and have enjoyed the interaction with friends that can't make it out to the farm very often. But we will be having a party in March. Stay tuned!
0 comments
---
Jul
23 2013
13 months later
Well folks, it's been a long time since I've been active on the blog. For those of you who may just be tuning in for the first time, let me introduce myself a bit. I'm Marissa, the daughter of Scott and Stephanie who own Sand Holler Farm. While I live in Austin (with my husband and two girls, 1 and 3), I spend a lot of my free time on the farm, doing farm business from home, or cooking with farm food. So I started this blog to keep our customers informed about the fun happenings around the farm. While we no longer have our CSA running, I do hope there are still folks interested in the place. So I hope to get back into things and have some regular posts!
So what has happened in the last year since I posted? Last year we bought the land next door. The original owner of our land actually had both pieces and he subdivided. The new owner next door had never improved the land, just pastured his horses there. So we purchased it and have been fixing it up. The front few acres are grass but the rest is woods, with one big "tank" (that's Texas talk for a pond). It's not in great shape, but we have been digging it out when it goes dry.
Another fun part about owning that land is that the horses stayed! They aren't our horses. So we get to give them treats and pet them but don't have to worry about any of their care or maintenance. It's a great deal if you ask me. Doc and Red have grown quite accustomed to us and always come over to see if we've brought them anything.
Last fall I finally experimented with making jelly from the hibiscus plants. I have a whole post ready and waiting for that one, so I'll just tease you with a picture of the final product. Delicious!
For Thanksgiving, we had a huge supper at the farm. I believe we had 30 people. I made a pledge to use ALL local products and we managed to stick to that. All the veggies and meat came either from our farm or nearby places. It was a wonderful feeling and a scrumptious meal. The "cranberry" relish was actually hibiscus. Perfect substitute!
Unfortunately, not all went smoothly over the last year. A bobcat moved into the area. Or rather, he had probably been there for a while – I've read they can have a HUGE range – and only discovered our 'easy pickings' when wild food became scarce. We had a mobile chicken coop that moved around the front pastures. The number of chickens kept dwindling but we couldn't figure out what was going on because it was happening during the day and very few predators come out then. But Jeremy watched as a bobcat waltzed across the field and snatched a chicken, racing back to the woods once Jeremy started yelling and chasing. We spent a lot of time trying to prevent more attacks – cutting the grass and bushes back so the bobcat couldn't hide, moving the mobile chickens into the permanent chicken coop which is farther from the "bobcat forest" as we began to call that side of the farm. But the chickens continued to frequent the compost piles which were practically under the trees. We lost our dear rooster Percy one afternoon and finally had enough.
The front pasture is entirely fenced from the woods and most of the fence line is away from the trees. The bobcat could easily scale the fence, it's just that there is no cover in the pasture. But by the compost pile, there are trees on the pasture side of the fence. So we had to erect more fences to keep the chickens from going back there. Don't worry, they now have their own small compost pile of food scraps in the coop! I think we lost nearly a dozen chickens before the bobcat was deterred enough to find easier hunting grounds.
We transitioned to another onsite farm couple. We have live-in managers that take care of the place and usually do the business side of things so they can earn an income. We have a new wonderful couple at the farm – Kevin and Leslie. They are quickly learning the ropes and the garden is producing some yummy vegetables.
I'll be around to post more on things that happened earlier this year as well as what we are currently doing. It's good to be back! And just so you don't think I've been taking the last year off just because I wasn't blogging, here's the typical scene in my house these days. Sigh.
3 comments
---
Aug
02 2011
Why so quiet?
Wow, this blog is being neglected.  Loads of stuff happening around the farm.  Time for a general update!
Mom got back from the Seed Savers Exchange conference 2 weeks ago.  She is brimming with ideas and we are eager to implement some.  She has promised a blog post about the happenings soon!
We had ramped up to hosting 8 WWOOFers at a time on the farm.  WWOOFers are Willing Workers On Organic Farms.  They come from all over the world to work your land.  In return, they get room, board and an education on farm life.  In general, it's a very positive and rewarding experience.  However, any endeavor that depends heavily on human nature is bound to have some tragic failures.  We recently lost 4 WWOOFers in one day.  The community aspect of living and working in a group like this doesn't always go smoothly and unfortunately, the breakdown of a comfortable living situation caused the loss of so many.  We are back on track though with better rules and some more oversight so hopefully we will learn a lesson from this hardship!
And then the rats.  I know, what's so bad about a couple of rats on a farm?  Lots is bad.  Because it's not a couple of rats.  We are infested.  It started with lazy grain storage.  We hadn't had a problem in the past so we weren't overly protective of our animal feed.  But they found it and they came.  It took a huge effort to secure all the food sources from them.  We had multiple containers chewed through before we found the right ones.  But we can't prevent the rats access to water.  We have open water troughs for all our animals, so there is an abundance of water on the property when there is literally none in the rest of the land around us.  So the rats came for the food and stayed for the water.  And then discovered the garden.  So now they have another abundant food source.  To date, 49 cantaloupes have succumbed to those incisors.  Countless pounds of black eyed peas have disappeared overnight.  And a myriad of other random fruits and vegetables have been found nibbled in the morning.  The fight was on and we decided to fight dirty.  We found the rat poison that would do the least damage to any other animals and set it out a few days ago.  Sure enough, some of the poison was nibbled on and there was a funny smell from under the harvest house.  So we upped the effort seeing that it was effective.  Now the whole farm smells like success.  It's horrible.  Each morning we gather up the dead bodies and dispose of them.  But many more are dead in their hidey holes in our buildings.  Life is fun on a farm.  Good thing I'm at the office this week! 
The cows have been back the last two days.  Yesterday we worked on fencing across the bottom of the creek bed that they are coming in on.  In the past, this had a clever gate that stayed closed when the creek flow was low but lifted and let the water through when it flooded.  But we had a massive flood last year that tore it off completely.  And now that everything is so miserably dry, the creek is empty the cows are using it as a highway.  Hopefully we've kept them out for good!
The goat kids are starting to wean.  We are most likely going to sell all the doelings this year.  It's hard to see the cuties go, but we already have enough milkers!
I promise some more updates and pictures soon!
2 comments
---
Jul
27 2011
St. John Colony
The farm is very near an area called St. John Colony.  I'd seen the signs when we first bought the farm but didn't really know what the story was until we stopped at the historical marker across from the cemetery.  The text reads:
SAINT JOHN COLONY

This community began in the early 1870s when a group of freedmen and their families, led by Rev. John Henry Winn, relocated here from Webberville (approx 20 mi. North).  The original fourteen families purchased about 2000 acres of land to establish a town and family farms.  Originally named Winn's Colony in honor of John H. Winn, the community name was changed to Saint John Colony after Winn organized Saint John Missionary Baptist Church in 1873.

The community grew steadily and at its peak included homes of about 100 families, farms, stores, a school, cotton gin and grist mill.  A post office, under the name Machiesville, opened in 1890 with Lewis Machey as postmaster.  Churches, in addition to Satin John Missionary Baptist, included Zion Union Missionary Baptist and Landmark Missionary Baptist.  the boundaries of the colony extended into Bastrop County.

The post office was closed in the 1920s and the school was consolidated with Lockhart shcools in 1966.  The churhces remain actrive, and the community graveyard known as SAint John Cemetery or Zion Cemetery contains the graves of many of the area's pioneers.  Descendants of some of the founding families still reside in Saint John Colony.
The St. John Zion Union Baptist Church has certainly seen better days.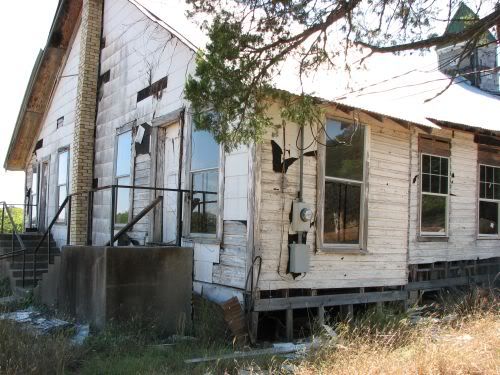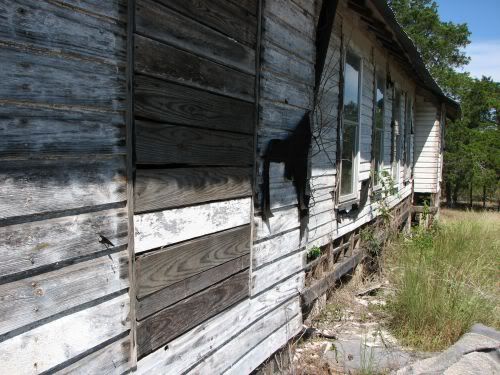 On the other side of a goat farm from the church is the cemetery, complete with hand painted sign.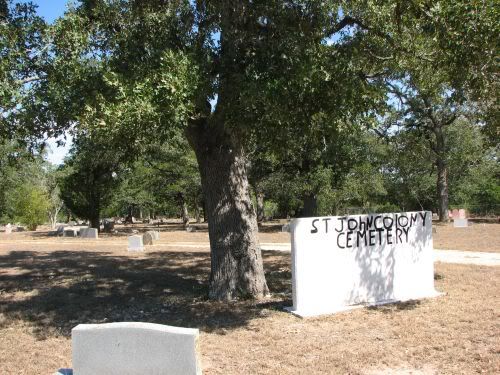 It's a neat little community and I'm eager to learn more about it.  There are several other churches one of which has carved marble tablets with additional local history.  I've not had a chance to transcribe it all because it's worn and hard to read, but it's on my list!
0 comments
---